We're delighted to announce our Figma plugin that will allow you to use Raster libraries directly within Figma.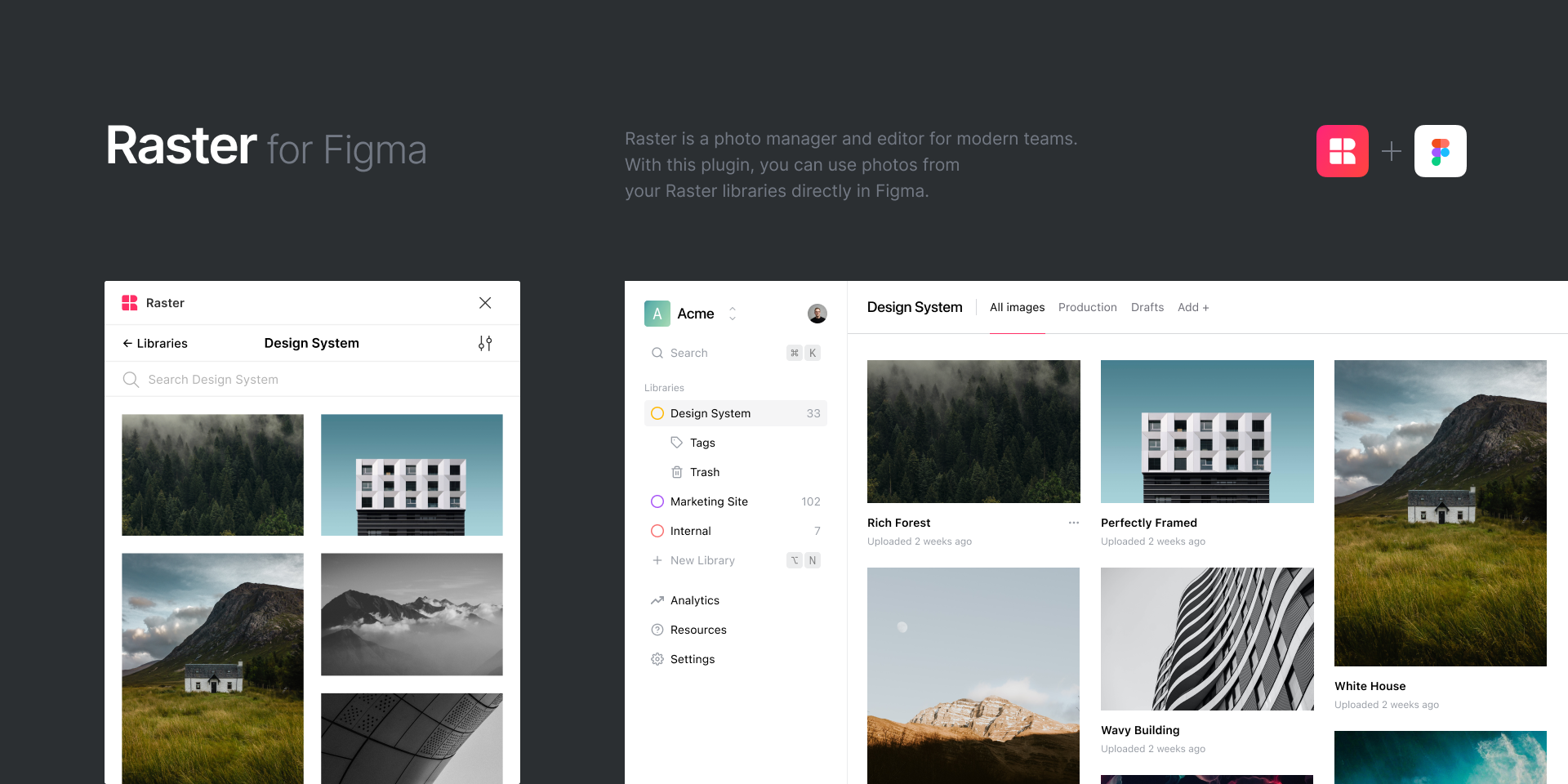 We're building a DAM from the future. Raster improves marketing and design workflows and makes it easier than ever before to manage, edit, and share images and digital assets. With that in mind, it makes perfect sense for us to develop a plugin for Figma, the design platform that helps teams build together.
These two tools make for a powerful combination and further simplify workflows and collaboration between marketing and design teams.
If you're an existing Figma user, you'll love having the ability to manage all of your digital assets in one place. No more need for multiple hosting platforms, sharing images on Google Drive or via email, or struggling to find the assets that you need when you need them.
More about Raster
We built Raster to deliver a Figma-esque experience for DAM users. For far too long, digital asset management has fallen behind the user experience of other software, but Raster aims to change that. It's the all-in-one photo management platform that will improve your marketing workflows and collaboration.
First and foremost, it's great at hosting digital assets. With unlimited storage and unbeatable speeds, you get access to the best DAM on the market. Throw in the Raster AI tagging tool that will help you to sort and find your images more efficiently and you're onto a total winner.
But we've gone further than just building a great DAM. We've developed built-in editing and collaboration features that mean that all of your basic design needs can be handled in the same place that you store your images.
Our collaborative tools mean that users can work simultaneously on the same images and our editing feature allows you to seamlessly edit assets without fear of damaging the source image.
Basically, Raster will satisfy all of your design needs up until the point when you need…well…Figma. And this plugin means that your images will be right there when you need them.
Sound interesting? Sign up for Raster, download the plugin, and get started today.
Now in Public Beta
Ready to give Raster a try?
Raster is a digital asset manager for modern teams, saving time organizing, editing, and hosting photography.
Register